Where to Organize Tools In Enclosed Trailers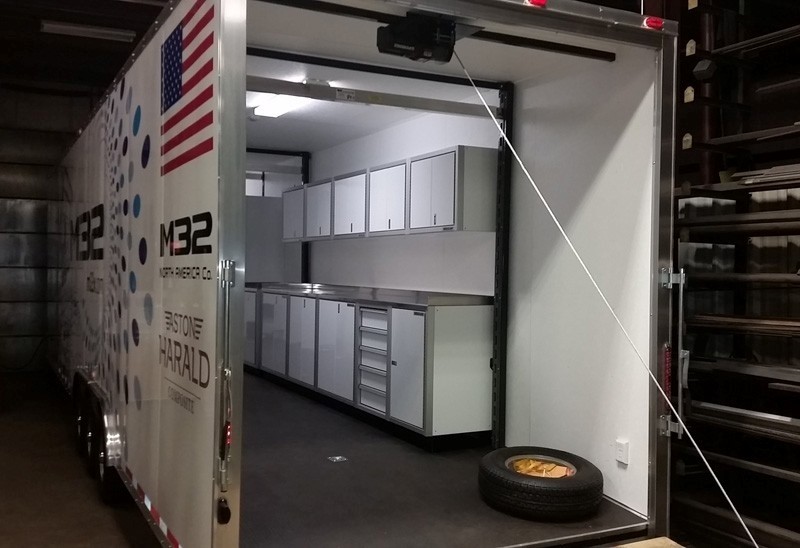 Its off to the races, but not before your trailer is packed and ready to go. Enclosed trailer cabinets are the best way to stay organized and stylish while on-the-go. Moduline Cabinets has the best storage solutions that will make the space more appealing and help you find your tools when you need them.
Long Lasting, Durable Trailer Cabinets
Our enclosed trailer cabinets are manufactured with military-grade aluminum for its durability and lightweight qualities. The drawers are easy to open, as well as super secure when in transit due to the QuikDraw single action latch system.
Cabinet Options for More Space
You can free up even more space with the wall units. With lift-up doors, adjustable shelf system, and clear anodized aluminum or sleek neutral grey-colored frames, these military-grade aluminum lightweight cabinets are made for your race trailer.
Trailer Cabinet Choices
Moduline has upgraded to the all-new SPORTSMAN II Series military-grade aluminum lightweight cabinets for more budget-friendly projects to declutter your trailer. It has many of the great features from the PROII Series but in a more value-focused package.
Conversion kits are also available like the V-Nose conversion kit for trailers. This kit comes with minimum assembly, easy shipping, and easy installation. All assembly hardware will be included in the shipment. This makes the SPORTSMAN II Series of military-grade aluminum enclosed trailer cabinets not only easy to choose and buy, but also easy to ship, install, and enjoy.

We Help With Your Trailer Cabinet Layout
To get a quote from Moduline Cabinets today, just call 888-343-4463 and inquire about the PROII and SPORTSMAN II series trailer cabinets. Race season wont be the same without these stylish enclosed trailer cabinets in your trailer.
Just speak with one of our cabinet experts for more information and place your order before youre too late! There is Free Shipping for a limited time to the 48 contiguous United States on trailer cabinet combinations. Dont miss out!

The post Where to Organize Tools In Enclosed Trailers appeared first on Moduline.