Need Racing Cabinets for Your Race Hauler or Trailer?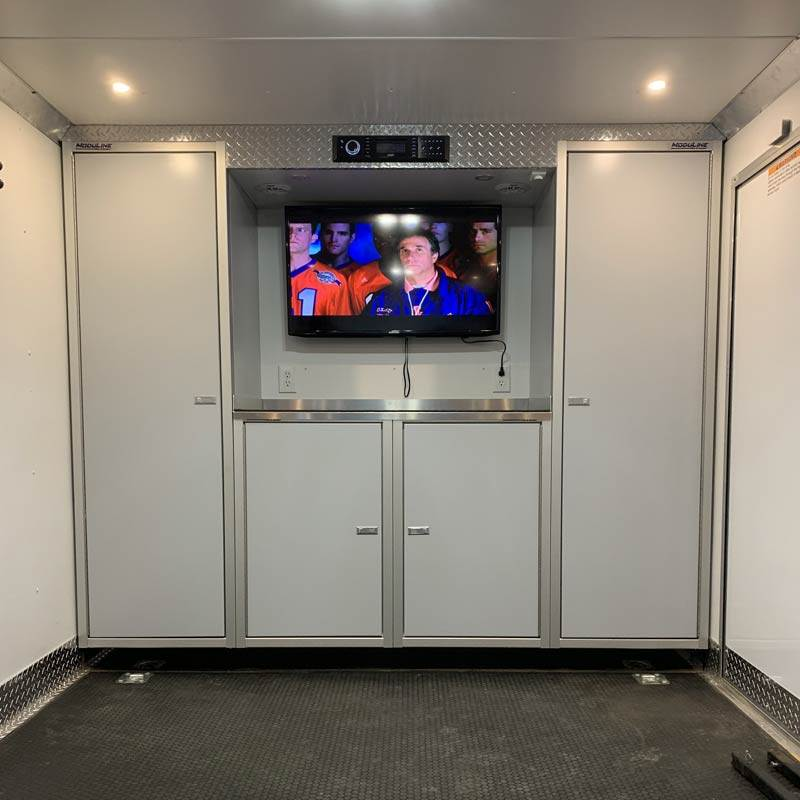 Racing teams have one of the most difficult travel situations in all the sports world. Not only does each team need everything for the race, but also backup parts to everything they already have. Some teams may even need multiple trailers to transport everything they need from one race to the next. Race trailer cabinets are the answer to staying organized and making it to your race on time.
Our Lightweight Cabinets
All of our race trailer cabinets are constructed with military-grade aluminum to ensure durable and lightweight cabinets that will withstand years of hard use. By using aluminum cabinets, we cut down on weight by half when compared to steel.
Modulines cabinets are constructed to ensure that your cabinets will always stay secure no matter how rough the roads are. We will help you design the perfect custom cabinet layout for your enclosed trailer to fit any parts that you have.
Custom Cabinets for Enclosed Trailers
People familiar with Moduline products will know about the PROII Mobile Series cabinets. These cabinets can be customized to fit any race trailer cabinet needs you may have.
A unique feature our cabinets have is the patented QuikDraw drawers that allow for easy opening and they keep drawers locked in place on the road. Government vehicles, V-nose trailers, or any type of mobile vehicle with storage needs are the perfect candidate for Modulines aluminum cabinets.
After seeing the possibilities of how we can transform your vehicle or trailer, you will realize how much Moduline will help your race trailer cabinet needs. Contact us today and speak with one of our cabinet design experts on how to transform your vehicle. All customers are offered a complimentary design consultation. Call us today at 888-343-4463 for an expert opinion on your next cabinets.

The post Need Racing Cabinets for Your Race Hauler or Trailer? appeared first on Moduline.